Marine LED Lights Features:
• White version has a three-position switch (High/Off/Low) to select two warm white brightness levels, high level equivalent to about a 40-watt incandescent bulb.
• Red ⁄ white version has a three-position switch (Red/Off/Warm White) to select red or warm white.
• Internal circuitry provides for constant energy consumption, regardless of voltage fluctuations from the source, meaning no flickering and longer LED life.
• Long service life, shock-resistant, ultra-rugged with no filament to burn out or break.
• Very low power consumption, approximately 1 to 3 watts depending on the setting.
• Lead-free, mercury free, and no UV output.
• Dimmable with PWM dimmers except bi-color model.

Marine LED Lights Specifications:
Input Voltage: 10-30VDC
Current Draw: ~0.3A @ 12V (On High) ~0.15A @ 12V (On Low)
Light Output: ~120+ lumens
Color Temperature: ~3000 K
Lens Material: Polymer
Fixture Material: Polymer
Fixture Dimensions: 8" (203mm) long, 2.5" (63.5mm) wide, 1.4" (35mm) tall.
Mechanical Connection: Three mounting holes
Electrical Connection: Polarized 3" pigtail cable

Weight: ~

5.9 oz (168gm)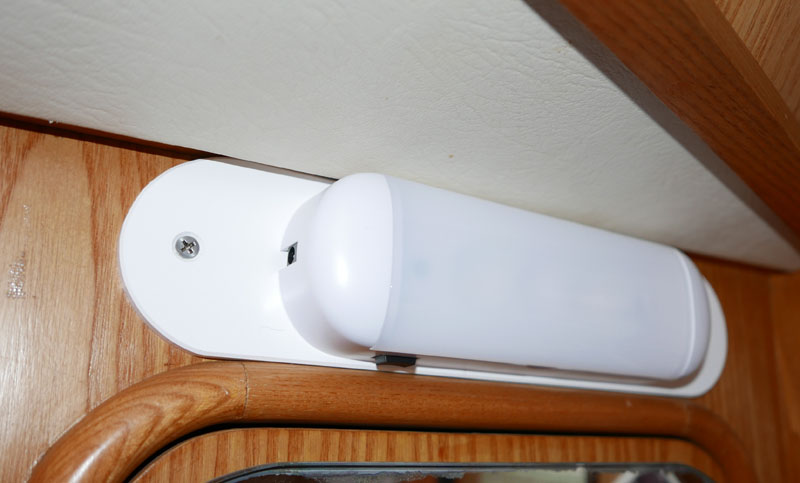 (Custom installed with a white back plate.)

8" White Under-Cabinet Marine LED Light

8" Red/White
Under-Cabinet Marine LED Light